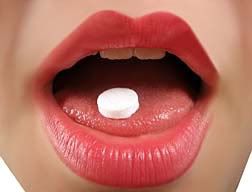 The birth control pill has been around since 1963, when it was first introduced by Ortho Pharmaceutical. This medical miracle gave women a highly-effective, mess-free, and reversible way to prevent pregnancy that didn't require a "buzz kill" during the heat of passion. ("Um, honey. Can you pass me my diaphragm before we go any further?")

So, how is it that more than 40 years later, women are still walking around with cheesy looking pill packs? Plastic, sterile-looking hard cases or flimsy soft plastic pouches that can be easily identified from a mile away? (You wouldn't catch me with one of those in my handbags. That's the last thing I need falling out of my purse at the grocery store checkout, or while I'm fishing for my keys.)

I want a case I can feel good about tossing into my handbag. One that doesn't make me uncomfortable if it falls out onto my desk at work. Why should I have to leave my pills at home? I'm a busy girl with a million things to do. I can't afford a missed pill, but it happens more often that it should (because I remember long after I've left the house.)

But there is a glimmer of hope. Some really cute birth control pill cases are popping up that are so cute, you will actually want to show them off (including cases with built-in alarms for those of us with too many other things on our minds.)


And just for fun, check out these cute birth control pill-shaped bars of soap!